For many people selling to offline clients, taking payments other than cash or cheques has often been a complicated process. Setting up a merchant account, installing a landline with a payment terminal (which limits you to only taking payments from your office) etc.
Recently, mobile terminals have been popping up and PayPal launched their own last year. I have recently discovered iZettle though and not only is it incredibly easy to set up and use, the transaction charges are very reasonable – 1.5% to 2.75% depending on the volume of business you do.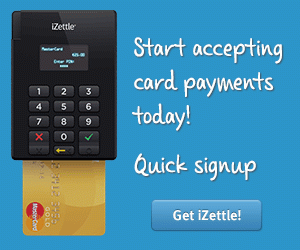 Even better news is though, you can take up to £1,000 at 0% transaction fees during your first month 🙂
The Card Reader is a one off payment of just £59 and allows to you to take Chip & PIN payments anywhere, connecting to your Smartphone. It links via Bluetooth to a whole host iPhone and Android devices.
Up your game in 2015 and get paid ANYWHERE. Check out iZettle today, you will be seriously impressed.